How To Order
---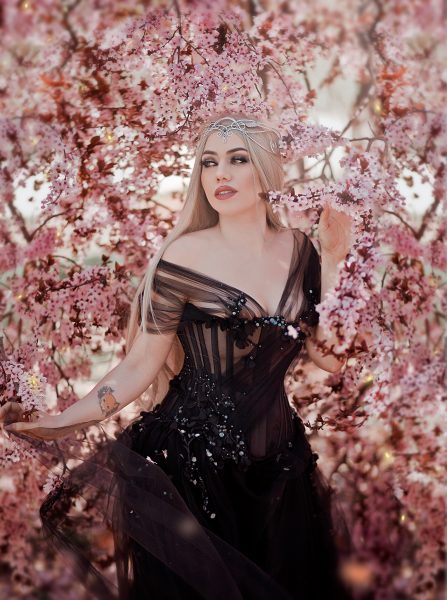 ---
Q: I want to order that corset or dress I saw on Instagram or TikTok:
A: I prefer to design each corset or outfit unique for each client, but I can use the elements of my other designs to make something unique for you. contact me if you want something specialized
Q: How can I order a corset or gown?
Q: Do you have anything that will fit my body type?
A: Absolutely!! I create everything custom made to measure for each client, including fittings or mock ups to ensure a perfect fit, and will work with you to create the perfect design and silhouette for you.
Q: How much will this cost?
A: There are a few different price levels, depending on what you would like to have. All of my prices are in Canadian dollars. Check your local exchange rate for comparison.
1. Custom corset prices can be found and ordered In My Shop. If you just want a custom made corset. Details like Swaovski crystals, lace, detailing, or things will be extra , contact me if you want a specific quote on just a corset
2. Custom designed corset gowns, can start at $3500 CAD and up. This will be broken into 3 or 4 payments during the process. if you want something more specialized. Please read more about the custom gown process. or Contact Me to discuss your unique design.
3. Ready To Wear corsets are available for $450 and are available in ANY SIZE!
4. One Of A Kind Samples are available from my fashion shows, photo shoots and some brand new corsets are ready to ship
Q: OMG, why so much?
A: A properly made corset begins with high quality materials, pattern drafting and couture construction expertise that I have gained from 30 years in business. Often the materials alone will be several hundred to thousands of dollars, and can often take weeks to complete, depending on the garment. Everything is made by me, in my Toronto studio. Read more about my process here
Q: Will you make me this outfit I saw on another designers page?
A: No.
Q: Will you make me the same bridal gown I saw on your client?
A: I prefer to create something that is unique to each person. This way, each client has a one of a kind gown that is uniquely their own. Contact Me to discuss your unique corset gown design
Ordering a Corset Gown: Whether you have your own design in mind, or you would like me to design it with you ~click here~ and we can get started!
Order a Custom Corset: You can order online In My Shop!
Browse through styles, customize, and order with your deposit. You can always contact me if you want something more specialized.