When you look at a corset, one of the first things you notice, after the curve, is the silver busk closure. A busk is the traditional steel eye and pin closure at the front of a corset, the mainstay of modern corsetmaking (see what I did there?)
Busks as we know them today evolved from the stiffened front lacing bodices if the 1400's, to the bodices of the sixteenth century, which a length of thin wood, ivory or bone was used to flatten out the front. They became often beautifully decorated pieces that were hidden inside the bodice that were removable.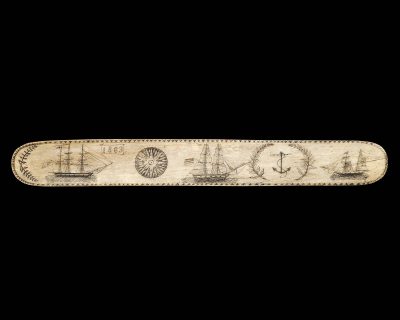 The busk as we know it began to make an appearance in the early 1800's, and shifted from a stiffening piece to a combination stiffener, and two-piece fastener, and continue to be a beautiful, practical and durable corset closure that we all use today. For a wonderful history of corset busks, visit Refashioning History's article "A Brief History Of The Corsert Through 1950".
It's not surprising that even in modern corsetmaking, the busk has remained a corsetmaker's go-to for closures. I prefer to use busks above zippers because it's rare to find a modern zipper that the teeth won't eventually pull from the zipper tape, or the tape itself pulls apart with the pressure of the corset. Swing hooks with proper rivets are a great up to a certain reduction, like our Lilith corset.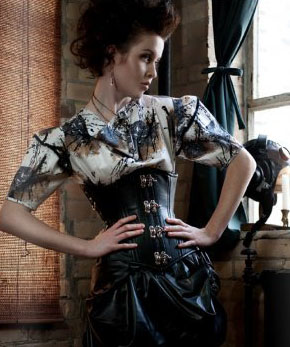 Corsets can also be made without a busk closure, but typically, they are more difficult to get into. It does leave more options for decoration, and are always stiffened in the front with flat bones. To put one of these on, you can either pull them up over your hips, or over your head, then lace up the back.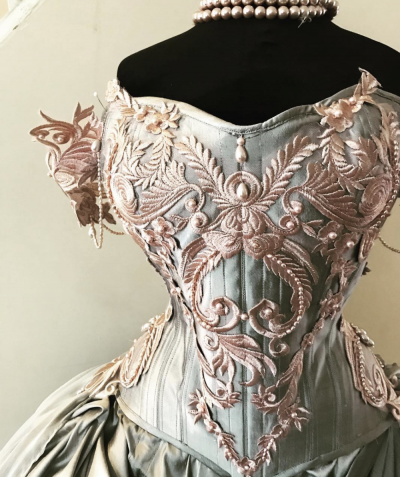 There are so many varieties available now, including and different metals, finishings, coating and even engraving options! They all generally carbon and manganese (usually <2% Mn) stainless steel, how do we choose the best option? The overall design of your corset and which colour of busk suits your desired look usually leads the way. Often an all black corset looks great with a purple busk, or for an antique look, an engraved busk, or maybe a spoon busk or to match a clients favourite jewelry, a gold busk? I often see a specialty busk and am inspired to build a corset around that!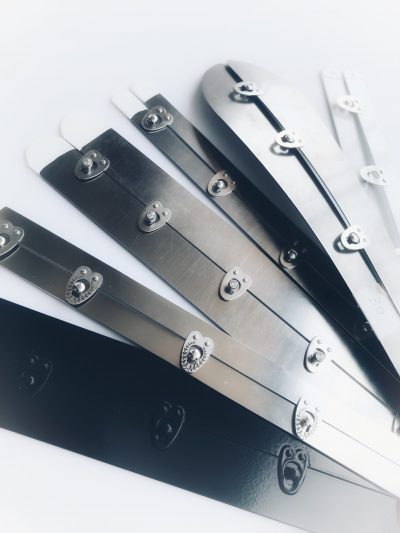 THE GOOD
When I started my corsetmaking journey, I was directed to Wissner by the lovely costume department at Stratford Ontario. Wissner is a German company who has made garment steels, like busks, corset bones, bra wires and orthopaedic support pieces for over 160 years! Their products are made in Germany and the quality is unsurpassed. The first busks I used were the Wigona busks, which are stainless steel coated in a white plastic. The bone is flexible, and the eye and pin are incredibly strong and rigid. Now, I use the Nirosta busks, which has a more rigid bone. The Wigona typically require an extra flat bone underneath for the proper strength, but the Nirosta can be used without extra support. Sometimes clients wish to have a little more flexibility, and more of a belly curve, rather than a flat front, and I would use the Wigona in this case.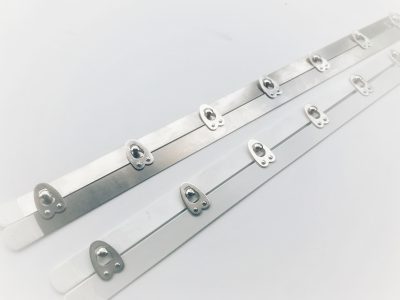 THE NOT SO GOOD
More recently, Chinese busks have become more popular amongst corsetmakers who wish to keep costs lower. These aren't designed to last a very long time, and the eyes will bend and brittle fracture, even with proper corset use. They can be good for costumes that you don't need a lot of durability in, or in some fashion corsets that aren't intended for reduction, structured support – or even a mock up that doesn't require longevity
Some clients have bought me corsets they bought from a mass-production corset company and the busk has either snapped in half, or more commonly, the eye has brittle fractured, or a pin or two have popped out. Buying a corset from a mass-producer, or very inexpensive corsets are generally good indicators of your corset containing a poor quality busk or steels. This is one of the ways some companies keep their costs low. They don't need your corset to last years. It can often be difficult to tell the difference between a good quality busk and a poor quality busk until you put it to use, and see how fast the eye bends or the pins pop out, even with proper use. Most mass producers, or corsets made in China won't replace the damaged busk or garment. Some Chinese busk manufacturers claim their busks are stainless steel, but upon further request, their busks were 100% manganese, containing no carbon or iron, which defines stainless vs. another alloy. Even though German and even some Chinese busks are made of carbon steel with a little manganese, there is a huge variance int he quality of the steel from one to another and the rivet process to attach the pins and the eyes to the bone.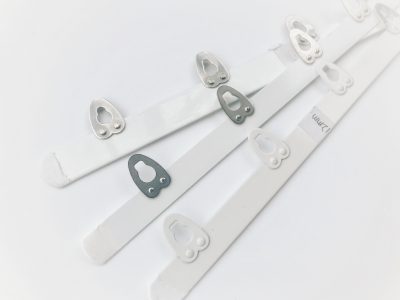 THE AWESOME
Often, a client requests a spoon busk, or wide busk, all of which, I buy from Wissner directly, or sometimes Farthingales in Ontario if I need only a few of an unusual length, because they stock Wissner busks. These are great for extra tummy support, or for a unique antique look. They are completely rigid.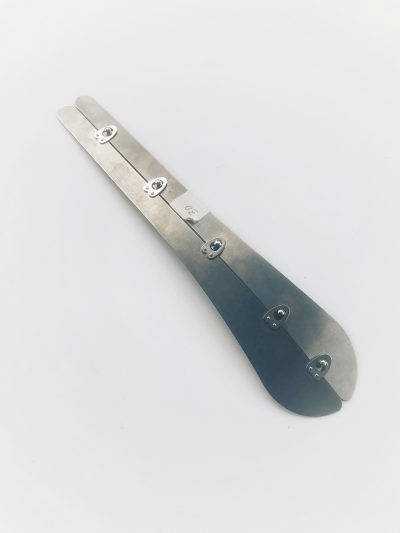 For specialty busks, Lowana of Vanyanis makes these gorgeous engraved corset busks, which have a beautiful vintage look, she even has these beautiful engraved pieces that she makes jewelry out of! These are also, I believe Wissner busks too.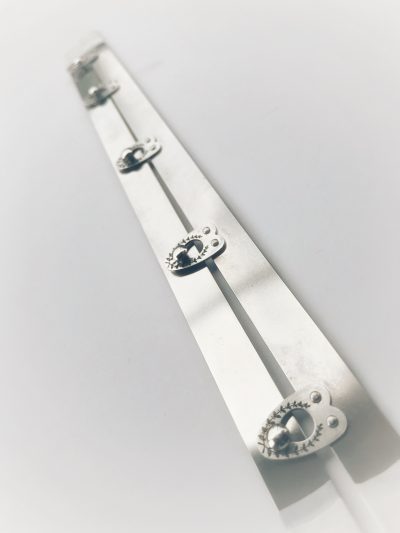 For a splash of colour, I love using Narrowed Visions busks. They are available though her Etsy Shop in a variety of colours, and she can even do custom colours too!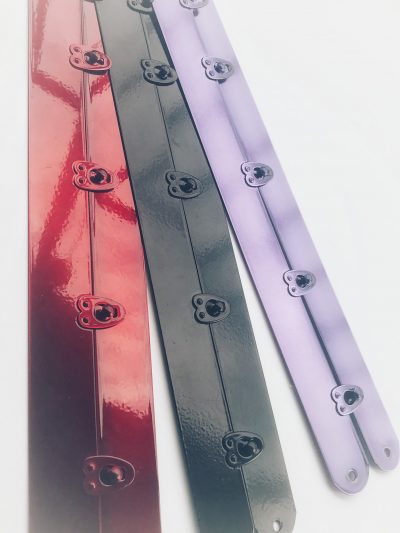 For a little sparkle, Farthingales sells "Diamond busks, which have a stone in the pin!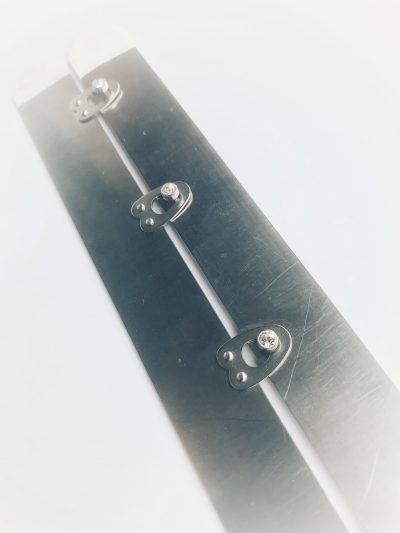 Quality materials are one of my top priorities for corsetmaking, and this is why there can be a huge variance in prices from one corset company to the next. Quality busks and materials are expensive, but you get what you pay for.
Here are how some of these busks look in some corsets that I've made