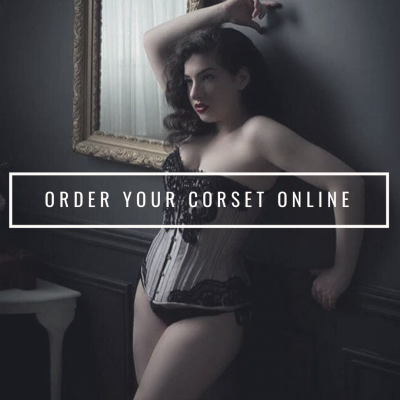 Want to order your corset online? Great! We ship within Canada, United States, and Europe. This is what you will need to place your order.
Step 1: What style would you like? Choose your basic corset style from our Bespoke Corset Shop, and customize it by choosing the materials, colours and filling out your measurements.
Step 2: Pay your deposit to place your order! You can pay the full amount or get your order started for as little as 1/3 of the price! Once we receive your order, we will send you the measurement tutorial, and arrange a phone or Skype meeting to work out your unique details. Your price may change slightly depending on your chosen details, but you will always be notified of any price changes ahead of time.
Step 3: Try on your mock-up. All bespoke corsets and corset gowns come with a complimentary mock-up. Once we receive your measurements, your mock-up is created, and shipped with your fabric swatches. Your second payment is due when you approve your mock-up.
Step 4: Your finished corset! You will be sent photos and details of your final corset as we work on it, to be sure it is as you wanted. Once you approve the final photos, your final payment is due, and corset or corset gown is mailed out to you!
*please allow 8-10 weeks for delivery, for a single corset, or 4 months for a corset gown, as this is a custom made to measure garment. For weddings, or events, please allow 6 months to be sure there is plenty of time to send your dress back if alterations are necessary.
We keep all measurements on file for future reference, and provide a 10% discount for future orders!
Please contact us if you need any assistance