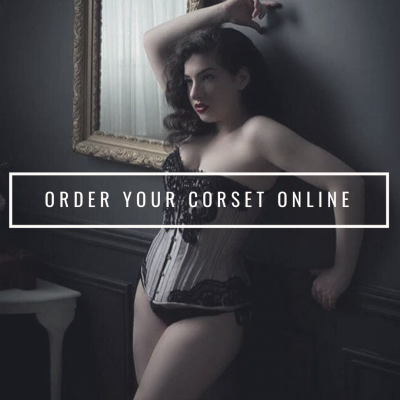 Want to order your bespoke corset online? Great! I ship worldwide, this is what you will need to place your order.
---
Q: I want to order just a corset online
A: Browse my Corset Shop, and order your corset with as little as 1/3 deposit. I will contact you to arrange measurements and a Zoom consult.
---
Q: I want to order a full corset gown or ensemble
A: Read over my process, and contact me to discuss your questions, or book a consultation.
---
Q: I just want a Ready To Wear, or sample corset
A: Click here for Ready Made Corsets ,
Click here for Sample Corsets and accessories
---
Q: Tell me more about the ordering process
A: Once you have placed your order, or had a consult with me, I will arrange sending you the list of measurements, or we will work through them together via Zoom. We will have a meeting to discuss your details, and I will draft your unique pattern from scratch, and sew your mock ups Once your mock up is ready, I mail it to you with your swatches.
Next, we arrange a zoom fitting to assess the fit of your corset or gown, and we discuss your swatches. Your second payment is due after you approve the mock up
You will be sent photos and details of your final corset as I work on it, to be sure it is as you wanted. Once you approve the final photos, your final payment is due, and  corset or corset gown is mailed out to you!
*please allow 8-10 weeks for delivery, for a single corset, or 6 months for a corset gown, as this is a custom made to measure garment. For weddings, or events, please allow a minimum of 6 months to be sure there is plenty of time to send your dress back if alterations are necessary.
We keep all measurements on file for future reference, and provide a 10% discount for future orders!
Please contact us if you need any assistance