Are you in Toronto or able to visit? Great! I am happy to provide in-person consultations and fittings for your corset,  and consultations. I provide a private, relaxed environment to discuss your corset design.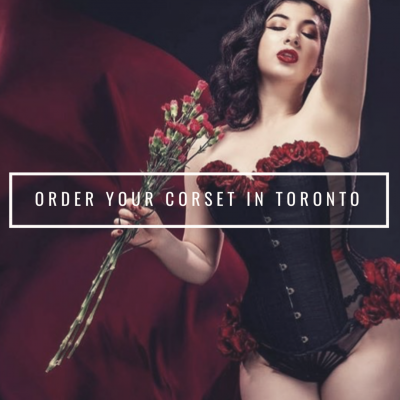 ---
Q: How do I book an in-person fitting or consultation? 
A: Email, or call me to book . In person consults  require a $100 deposit that will be credited towards your corset order. Weekends, evenings and daytimes are available.
---
Q: What can I expect during my visit?
A: Once you contact me to book,  will give you deposit instructions and the address (it's a private studio, so the address isn't available publicly). We will discuss your design details, look through fabrics and decorations, I will create a rough sketch, and take your measurements. A quote will be given, and if you wish to place your order that day, 1/3 of the total price will be required to begin your order. Your deposit will be credited to that. You will get to take home swatches
We will arrange a time to come back for your first fitting.
Q: Tell me about fittings?
A: Approximately 6 weeks after your initial consultation, we will contact you for a fitting. This helps me to be sure everything is perfect before we finish your corset or gown. I may require more fittings to get things perfect, but all fittings are included in the price of your corset.
We are centrally located, close to the Dufferin subway downtown Toronto.
Partners, parents, friends, bridal parties and children welcome. We have toys and tea to keep the entourage occupied.
We keep all information on file for future reference, and provide a 10% discount for future orders!
Please Contact Us to set up an appointment