Are you in Toronto or able to visit? Great! We are happy to provide in-person fittings for your corset, and consultations.We provide a private, relaxed environment to discuss your corset design.
Partners, parents, friends, bridal parties and children welcome. We have toys and tea to keep the entourage occupied.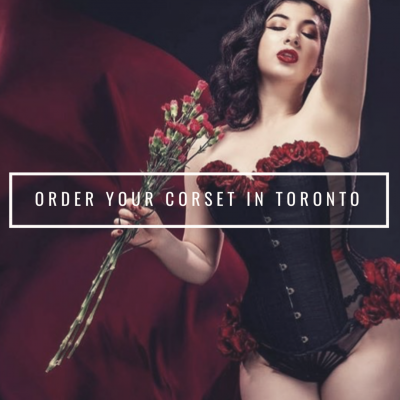 Please contact us a week or more in advance to book an appointment. Consultations are $50, which is credited to your corset order. Alternately, if you wish to purchase your corset at the consultation, we require a minimum of 30% of the total price to begin your order. We also offer lay-away services for as little as $200 down. We accept Visa, Mastercard and cash.
At the in-person fitting, you will be shown corset samples, fabric and trim swatches. You may have your measurements taken, and a sketch of your corset will be drawn up if you are ordering a completely customized style. Your subsequent fitting will be to ensure a proper fit of your corset and to discuss further details and customizations if necessary – for unique designs, we often customize as we go to suit your needs.
Approximately 6 weeks after your initial consultation, we will contact you for a fitting. This helps us to be sure everything is perfect before we finish your corset. We may require more fittings to get things perfect, but all fittings are included in the price of your corset.
We are centrally located, close to the Dufferin subway downtown Toronto.
We keep all information on file for future reference, and provide a 10% discount for future orders!
Please Contact Us to set up an appointment