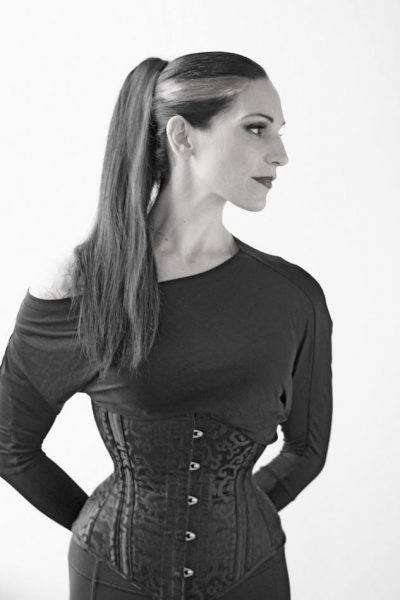 Toronto-based Starkers Corsetry has gained a devoted following in Canada, and throughout the United States and Europe, due to corsetiere Dianna DiNoble's meticulous attention to detail and modern take on historical designs. Established in 1992, Starkers caters to a wide range of customers, from traditional brides and fashion trailblazers to risqué fetish lovers.
Each corset starts with the clients preferred design, fine fabric selection and individual detail requests. After collecting over fifteen measurements, each corset is constructed using steel boning and couture techniques with hours of sculpting to ensure a proper, comfortable fit while incorporating the clients desired waist reduction. Because of their superior structure and comfort, Starkers corsets are frequently used by dedicated tightlacers to achieve waists 18″ and smaller, which can be attained without any harm to the body or bone structure. Not limited to custom corsetry, Starkers also designs clothing, millinery and accessories.
Dianna's was a finalist in season 1 of Out TV's Sew Fierce, and her work can be seen on the top Drag Artists all over the world including Brooke Lynn Hytes, Priyanka, Jimbo and many more. Her work has been featured in Vogue Italia, Toronto Fashion, Flare, Cosmopolitan, National Post, Toronto Star, and Clin D'Oeil, and Slice Network's Rich Bride, Poor Bride. Famous fans include Canadian music royalty, Nelly Furtado, Rêve, and actors like Ashley Greene, Ellen Dubin, Melanie Laurent, Jennifer Carpenter, Ashley Jones, Ellen Greene, Kara Dioguardi, Erin Cummings, Kate Flannery, Runtina Wesley and Suzie McNeil.
About Dianna DiNoble
Corsetiere Dianna DiNoble's aptitude for design was apparent from the early age of six when she started sewing and painting. As a determined and independent teenager, Dianna began producing her own fashion shows and selling her one-of-a-kind designs to local boutiques while still in high school. After studying fashion design at Sheridan College, she apprenticed under the tutelage of couturiers learning the techniques she uses today to create the superior structure of Starkers Corsets. She opened her studio in Toronto's fashion district in 1998, but with the arrival of her first child, in 2004 Dianna permanently relocated her studio to her home. Dianna's expertise has been called upon as a judge for various fashion shows, and to lecture at the University of Toronto, Bata Shoe Museum, and at TMU. She also has dedicated her time and talent to charity events, including the Book Lovers Ball and Catwalk for the Cure.