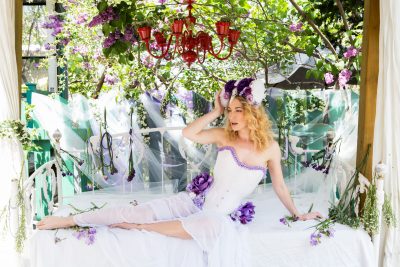 We've come a long way from the days of rough HTML & frames, and learning CSS and PHP is a steep learning curve, but we're all about curves here (see what I did there?), so when a plugin update created a cascading avalanche that broke the website, it looked like as good a time as any to start fresh.
I wanted it to have the same overall look and feel of the previous site – which was a vast improvement from our goth-castle look from the 90's, but thanks to improved plugins and functions, it's much easier to order your custom made to measure corset online!
We have some great information about our bespoke corset process, and an improved shop with currency conversion if you prefer to shop in US dollars.
To begin fresh, I've added this awesome shoot we did with Emanuel Pires of the gorgeous and talented Alayna Kellett wearing our bespoke white silk corset with purple and lilac flowers, beads, ribbons, with a matching flower headpiece with a "glass" 3D printed raven skull. Our 3D printer works 5% of the time, and this was the best piece to come out of it in a while. We shot this in mid May in my neighbour's gorgeous yard on her antique day bed with the lilacs blooming in the background. Jenia O'Connor did the makeup, and my neighbour's adorable Yorkie paced below the bed excited from all of the commotion.
Have a browse around the site, and drop us a line to let us know what you think!
~ Dianna