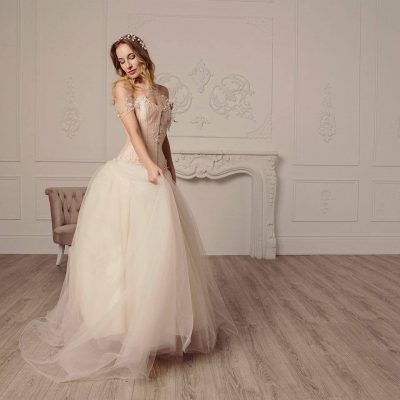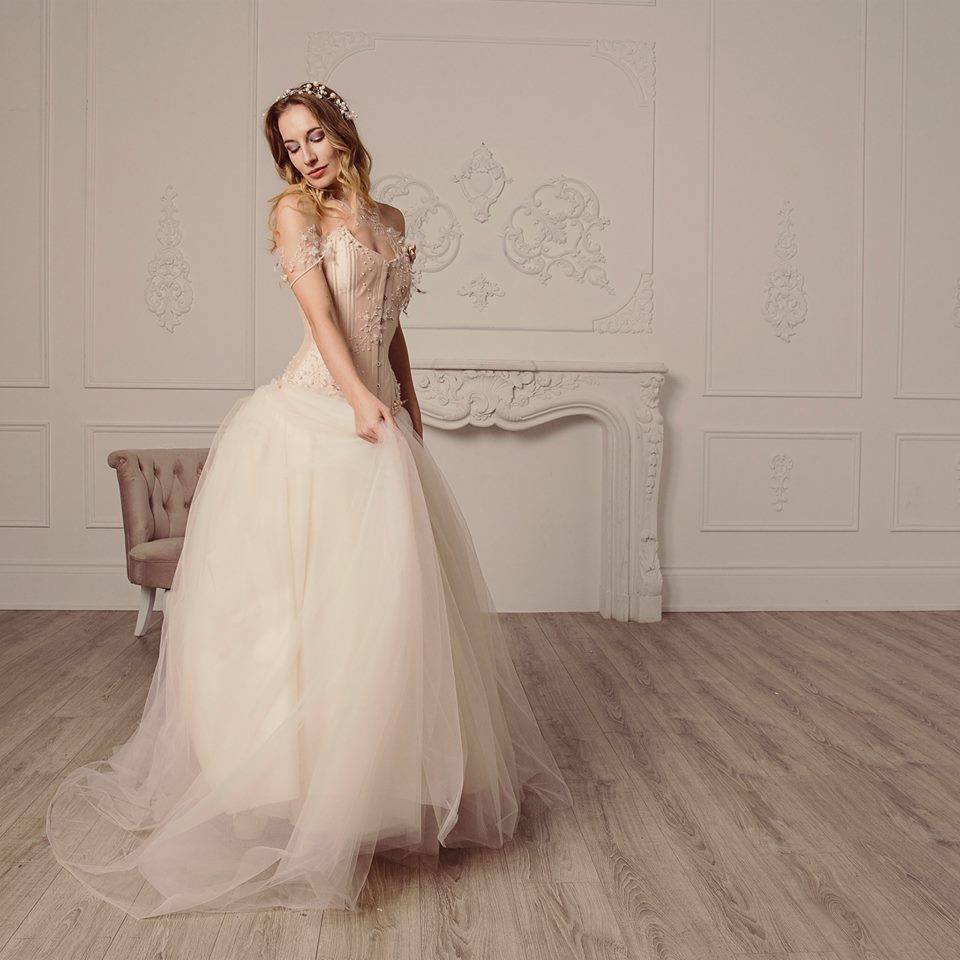 I did start this blog with best of intentions of updating regularly, but keeping all of my posting covered outside of sewing and client hours can feel a little like Social Media Whack-a-Mole. I pledge to post at least once per month, and hopefully more with appointment reminders so as not to let my ADHD run amok. So here we go!
Last week I had the pleasure of shooting with awesome photographer Philip Sutherland and his crew at the stunning Mint Room studios, with fabulous models Alayna Kellett and Alyssa Wainio. We shot three new creations and one older gown that was too elegant to not add to the roster.
I wanted to add a new spin on pieces that I already had around the studio, or fabric that I had been hoarding, like this gorgeous ballet pink/ peach silk that was a remanent from a dear friend's wedding 8 years ago.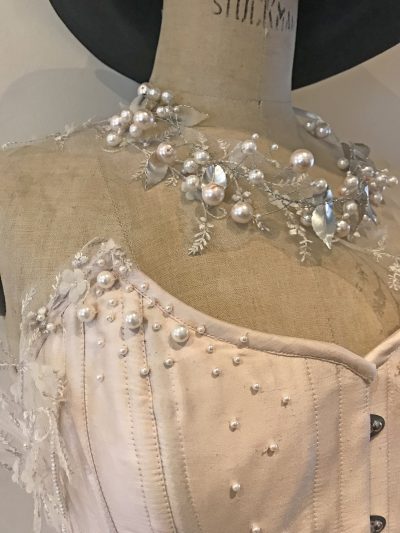 I used a moderated Batty bust curve and draped lace that I had saved from my Aunt's gown for her
daughter's wedding over the shoulders with draped beads hanging amongst it, and and carefully stitched more lace across the body of the corset. Then, possibly going far too overboard with three different sized pearls along the hips and at the bust points.
Is there such thing as too many pearls?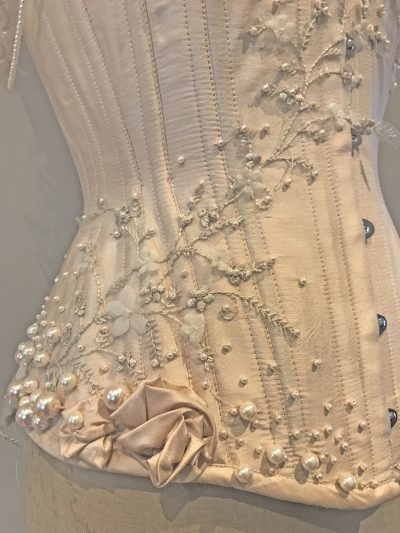 The skirt is several layers of fine blush tulle, which may have been designed with the lovely Alayna in mind, as she is a ballet dancer and dance instructor. To top it all off, I created a wire, pearl and silver leaf head piece to polish off the Ballet Fairy Queen look.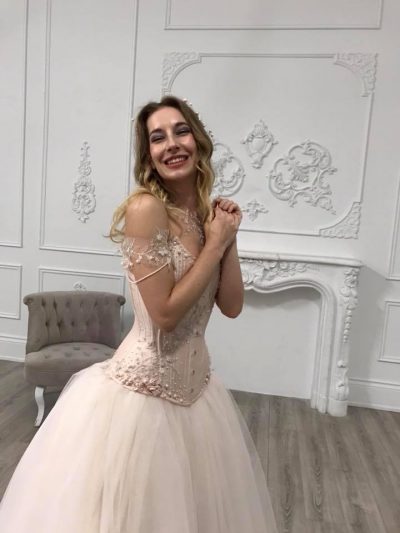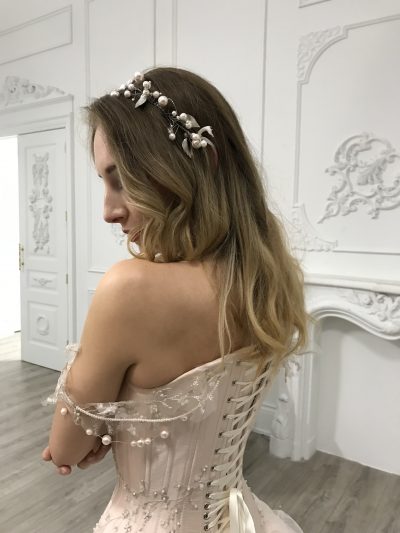 Working with Alayna is always a fun time, she keeps everyone laughing in between shots.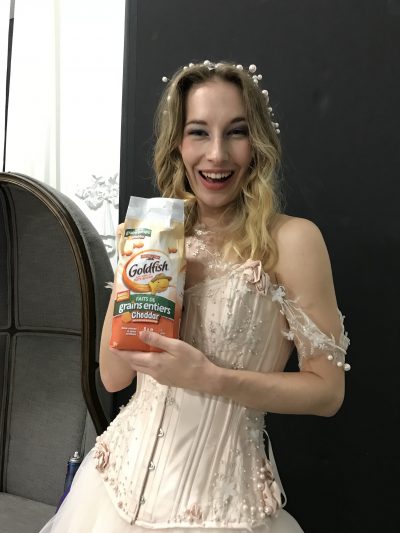 More behind the scenes fun: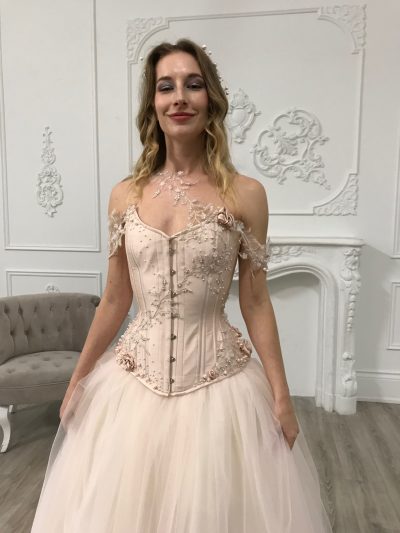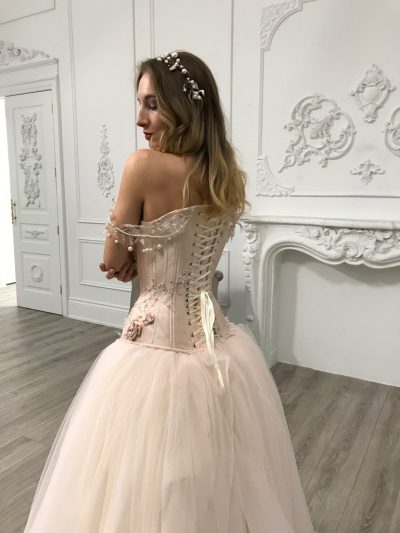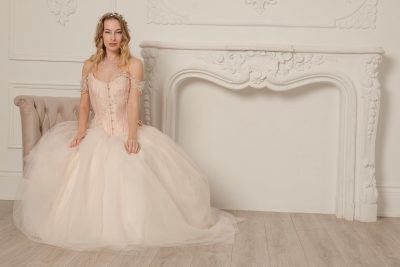 Please get in touch with me if you would like more information on this corset gown, or would like to have your own bespoke corset or corset gown created!
Stay tuned for our next blog post discussing this gorgeous corset gown!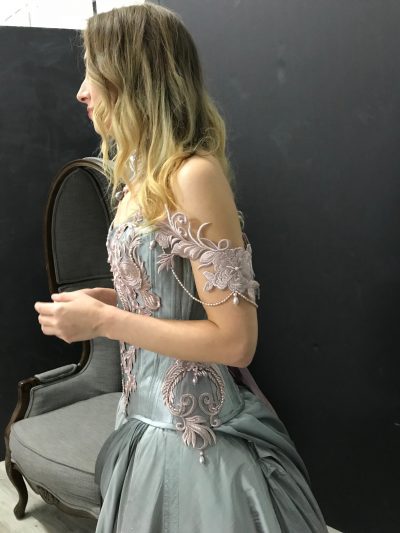 Thanks so much to the amazingly talented Phil Sutherland, and his crew, the Mint Room studios, Alayna Kellett, Alyssa Wainio, and makeup artist Martese Bell.
Want to be updated about blog posts, be eligible for exclusive offers and more? Sign up for our newsletter!