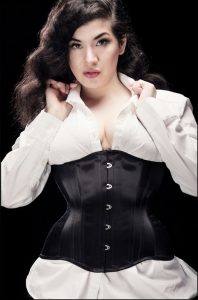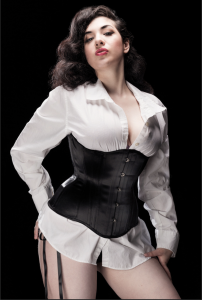 I'm excited to announce that I have released a ready to wear Victorian Underbust corset! It's the same overallshape and style as our bespoke Victorian Underbust, which is the most popular for every day wear. It's versatile, and can be worn in many different ways, under the clothing, or as part of your outfit. This RTW Victorian Underbust pattern is made from compiling many different patterns to find the average of size ranges that can fit a wide range of body types.
My focus with Starkers Corsetry's focus has always been completely made to measure, from the pattern to the finishings, and I'm very proud of that. I also understand that a fully bespoke corset is a financial investment that someone new to corset wearing may not be ready to jump right into, so I wanted to create a cost effective version, while still keeping the materials and manufacturing top quality, so the new corset wearer can get a feel for it without breaking the bank.
What
Until June 25, they are being sold at a pre-sale discount of $250 CAD (approx. $185 USD, but you can use the currency converter on the upper left menu to see in real time what your rate is), and they will be ready to ship the week of June 25, and will be sold at the regular price after that.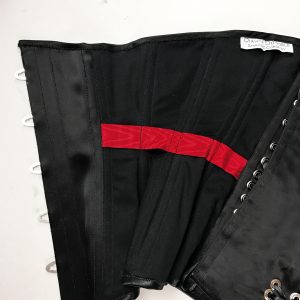 For now, they will be sold exclusively through my website, and after June 25 will also be available through my Etsy shop, where I typically sell sample sale pieces from my fashion shows.
Features
I am very excited about the features of this corset! The outer layer is a black satin English coutil, a traditional corset fabric that is strong and very durable. This black satin is a limited edition, and I will be switching it to another coutil when supplies run out.
This corset has a German steel busk, and bones, both flat and spiral, and two ply nickel grommets. The inside features a black cotton satin lining, and beautiful red moire waist tape!
This corset comes with a boned, floating modesty panel, black satin laces, and two pairs of black adjustable and detachable garters.
While I recommend our bespoke corsets for any waist training, because they can accommodate your unique bone structure beast – these corsets are suitable for long wear, and quite curvy! They have a 6″ rib spring, 7″ high hip spring and 10″-11″ low hip spring.
The best part is that these corsets, keeping with my passion for Slow Fashion, is that they are proudly made in my Toronto studio!