At long last! I'm so excited to show you our project with the beautiful Holly Harlott, and tell you a little about this gorgeous piece and the process.
This bespoke corset bodysuit is ballet pink satin with low hips, decorated with flowers, multicolour freshwater pearls, and mint extra wide ribbons (lots of ribbons!!)
This past winter had been so dreary and I was longing for spring flowers, so I dreamt up a spring confection that would be perfect for this pinup beauty. We began discussing the design, and details , taking measurements , and planning a fun shoot in the park with the spring blossoms that dreaming of.
I wanted to show you the process that goes into the bespoke pieces that I make. First the measurements are taken. I usually require about 15 measurements, but for a corset bodysuit we took about 25 to be sure it would be comfortable for her to wear and move in.
I used these measurements to draft Holly's unique pattern from scratch. All patterns begin with a blank page, no re-sizing existing patterns, everyone has a unique shape, so everyone gets a unique pattern.
This pattern is then cut into the cotton mock up, which Holly tried on to see how the paper pattern looks on an actual body, before applying it to the final fabric. Clearly some adjustments need to be made from here. These changes are applied to the pattern and the final pieces are cut.
The fabric corsets are made using an outer fashion layer, in this case is a ballet pink satin, which is interfaced and sewn onto a coutil inner layer for stability. The waist tape is applied to the coutil layer, and the cotton lining goes inside.
The first fitting with the fashion fabric is when we get to plan how the details should take shape now that the first round of fit corrections have been made – although there are always more adjustments wit the fashion fabric. Here's where we play with the pearls and of corse more flowers!!
As with all bespoke corsets, custom embroidery on the modesty panel is chosen, and because this would be a long one, we could choose something beyond initials: "I'm no angel" with an extra fancy flourish in teal and silver .
Time to add no less than 22 meters of 2.5cm mint green ribbons, pink and white flowers, which are hand sewn to the hips, and pink, grey and teal freshwater pearls are strung from the hips and bust, pleated ribbon accenting the sexy plunge, topped off with a large pearl at the bottom of the plunge.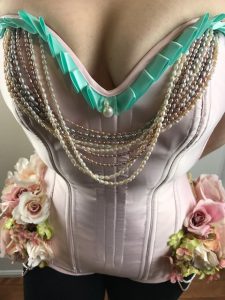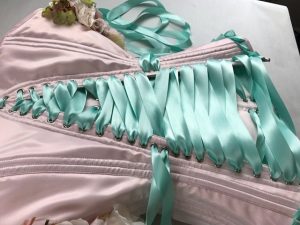 We had planned the shoot in April, which would be a challenge as Toronto parks are crowded with visitors when it's blossom season, but the ever optimistic Holly and photographer Courtney Reader stood firm that it would happen. It was pouring and freezing all week, and Photo Shoot Day had arrived with a forecast of 10mm of rain. The brave ladies showed up with makeup and hair done, and a Devil May Care attitude and off we went to the park. The rain had briefly halted, and because nobody in their right minds would be outside that day strolling through the blossoms, it was vacant! We found a huge magnolia tree with a beautiful blossoming cherry tree, and it couldn't be more perfect.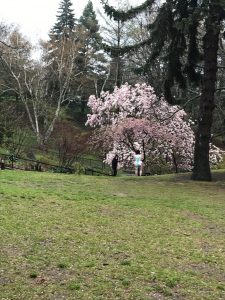 Much love and thanks to the brave and beautiful Holly Harlott, and equally brave and talented Courtney Reader for the photos,

Sams Hairband

for the awesome updo,

Lily Perfumed Pearl

for the vintage gloves and a bizarre twist of weather that allowed it to all come together beautifully.